Welcome to my Math Course!
I am so happy you are here! My course is designed to develop your child's confidence so that when they go out in the world, they have the tools they need to use math in every day real life.
The purpose of the course is to provide students with clear, easy steps that demonstrate basic methods of mathematics and form a bridge between real life and the new math skills students will develop.
PLEASE watch the entire STARTER PACK intro video so you know how the course works and how to use it effectively with your student(s).
Math is in the kitchen when you count and measure things for baking cookies. It's in the road trip that you take; the gas you use, the miles you travel, the time it takes to get there. It's having enough money to pay for the things you want and need, and making sure you have enough until your next paycheck.
Math is the driving force behind business decisions; how much to charge customers, how much to spend on staff and marketing, how much inventory you can keep and how long you can expect it to stay on the shelves. We're going to cover all of this and so much more. So let's get started!
After you download the packet, please read through it and print out the personal grading sheet if your child is going to track their progress. Put this in your math binder.
Step 1: Join a Math Class
First, select an area of math you want to do. Then join a Math Lesson either live (check the schedule links above) or recording (most students prefer this method).
We introduce a new concept in math each week, look for the videos titled "Math Lesson" in every session.
The live class is only the first step. We work hard to get kids interested and excited to learn more, and then they need to do the work after class in order to make consistent, steady progress.
Students must continue their explorations and discoveries with math on their own after class. In fact, once they get started in a regular rhythm of consistent daily practice, you'll find most students can't wait to do more all on their own!
Step 2: Print Materials
Print out the appropriate handout for the session. This is what we will be working through during the math lesson. Some math lessons have handouts for students to take notes in, otherwise students will take notes during the math class session, writing down math problems in their journals as I walk through each example.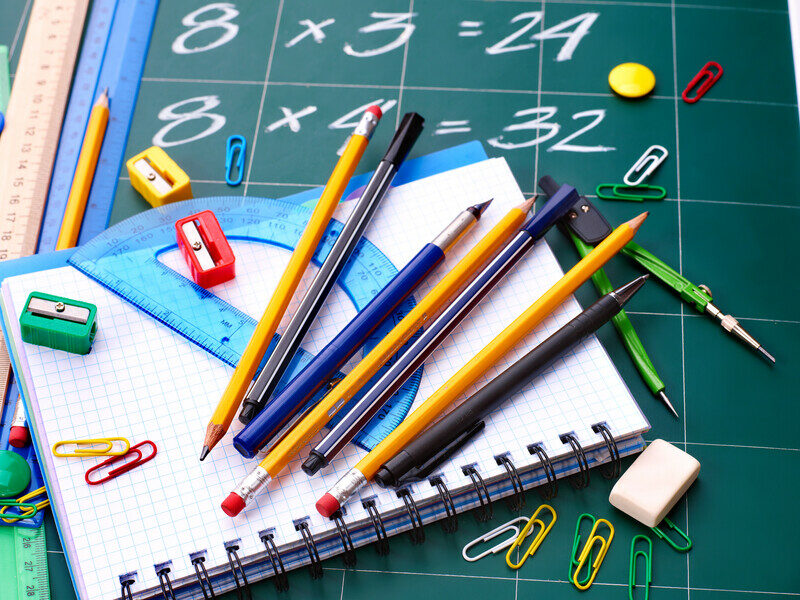 The live class gets you started, and then we provide you with the materials (step by step instructional videos, worksheets, handouts, homework, workbooks, games, puzzles, activities, math labs, tests, quizzes and review sessions) that will expand and support their learning as they do the work outside of the live class.
Students must continue after the live class is over to expand and learn on their own. You decide how much time spend on math is appropriate for your student, it will be different for each student. Some are ready for more and others have had enough after 15 minutes.
Step 3: Do the Work
Near the end of their 30-minute math class (live and recorded), I will show kids where to go for more study that corresponds with the day's lesson.
Find all assignments listed in the Math Assignments Outline (it's a pdf listed under the parent video for every session.) There is a new set of assignments for every session.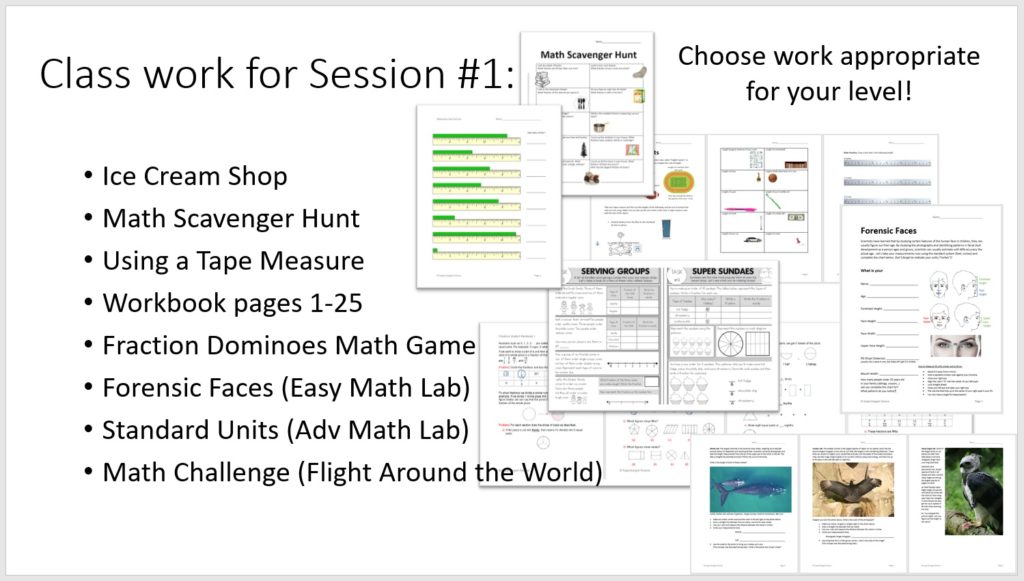 There are 7 sessions per Unit. Each session takes between 1-6 weeks of study, depending on how much math your child has already mastered, so take your time with each lesson and enjoy learning!
Treat our classes like a class at a University. After class is over, it is up to the students to work on what they need to learn in order to master it. If you only attend university lectures, you will not get very much out of the class, you must do more study outside of class to get the full experience.
Step 4: More detail...
The math lessons with Aurora are the introduction to the concept and getting you started. After class, students will choose which math activities, games, projects, puzzles, and activities they want to work on based on their interest.
The assignments listed in the Math Assignments PDF is a menu of options, not a "to-do" list. Beginners always work through the main workbook first, because the workbooks are the backbone of the program.
All instruction is provided in our Math Lessons, which you can watch live or recorded. We work through a different area of math in our live sessions every 7 weeks for our grades 4-6th level; and every 4 months in our grades 7-8th level over the entire year. Please refer to our schedule for exact dates and times.
Classes are recorded and published to the appropriate section every time we teach a class. You can start this program at anytime, there is no rush to "catch up" or "keep up", you go at your own pace, on your own schedule.
You decide how much math your student is ready for and what "consistent, steady progress" looks like for your student. Each student will have a different study schedule based on their interest, ability and how much they have mastered.
How much math each week? Can kids do this by themselves?
Most students will be able to do their work independently after a little help from you, the parent, at the start. Please make sure you work alongside your student when they start our program, as it can be overwhelming to start a new class and not really understand what the expectations are or what they are supposed to do.
Expect your student to spend time with us in a math lesson 1-2 times per week (either live or watching the recordings) and also at least 5-15 minutes per day working on math skills (for beginners) and 30-45 min 3-5 times per week (for intermediate and advanced students). There will be workbook pages each day to learn new skills in addition to activities and math lab projects which vary each week.
We'll be providing students with workbooks each week that they can go through at their own pace, weekly lab projects, in-class math activities and opportunities to work with real scientific data that they will analyze and work with and turn around and give back to scientists and engineers. It's a science-based math curriculum. Your student can choose to complete as little or as much as they would like to complete. You work through the program at your own pace, and you can wither attend the live sessions or watch the recordings when you are ready for the next concept.
How to Support your Child in this Math Course
Children's learning is rarely predictable and tidy. Every child will have particular opportunities or needs that will suggest going through things at different speeds or in a particular order.
For the most part, your child will be able to do this math course on their own, but there may be times when they'll need a little help. You know your child best, and by taking a little extra time to work individually with your child up front, this will really set them up for success long-term because you're helping them when they need it most.
Most of the time, your child will be working on more than one skill simultaneously. It is easier for students to have more than one area to work with at a time, as they can work on one area while letting the more difficult idea have time to sink in.
Remind your student that it's ok if things don't seem to be presented in a controlled or logical way. Please be willing to switch to a different step and drop an activity entirely if your child does not seem ready or interested. You may be surprised at how perfectly suited they are within a week or month for that very same activity or skill.
If your student does not like math, usually it's because they had an experience with math being hard, unpleasant, boring, and useless. Our math curriculum focuses on making math a fun, natural part of their everyday life by showing the students that mathematics is a part of things that happen all around us, every day.
If Your Child Needs Additional Help with Math Skills
If your child needs additional help as we work through the course, click here for our recommendations. Students will do best in this course will already have their multiplication tables down, and can do basic arithmetic such as add, subtract, multiply and divide.
Get Started by Selecting a Topic Below!
We have several areas of math that you can work through over the course of the year, spending as much time as you need to in each area. Each topic has several sessions, and each session has classes which include content for all levels (beginner, intermediate and advanced applications). You will be able to watch the classes either live or as a recording, which are posted immediately following the live class.